MEET THE MOVEMENT PRO WHO PREPPED ALICIA KEYS FOR HER WORLD TOUR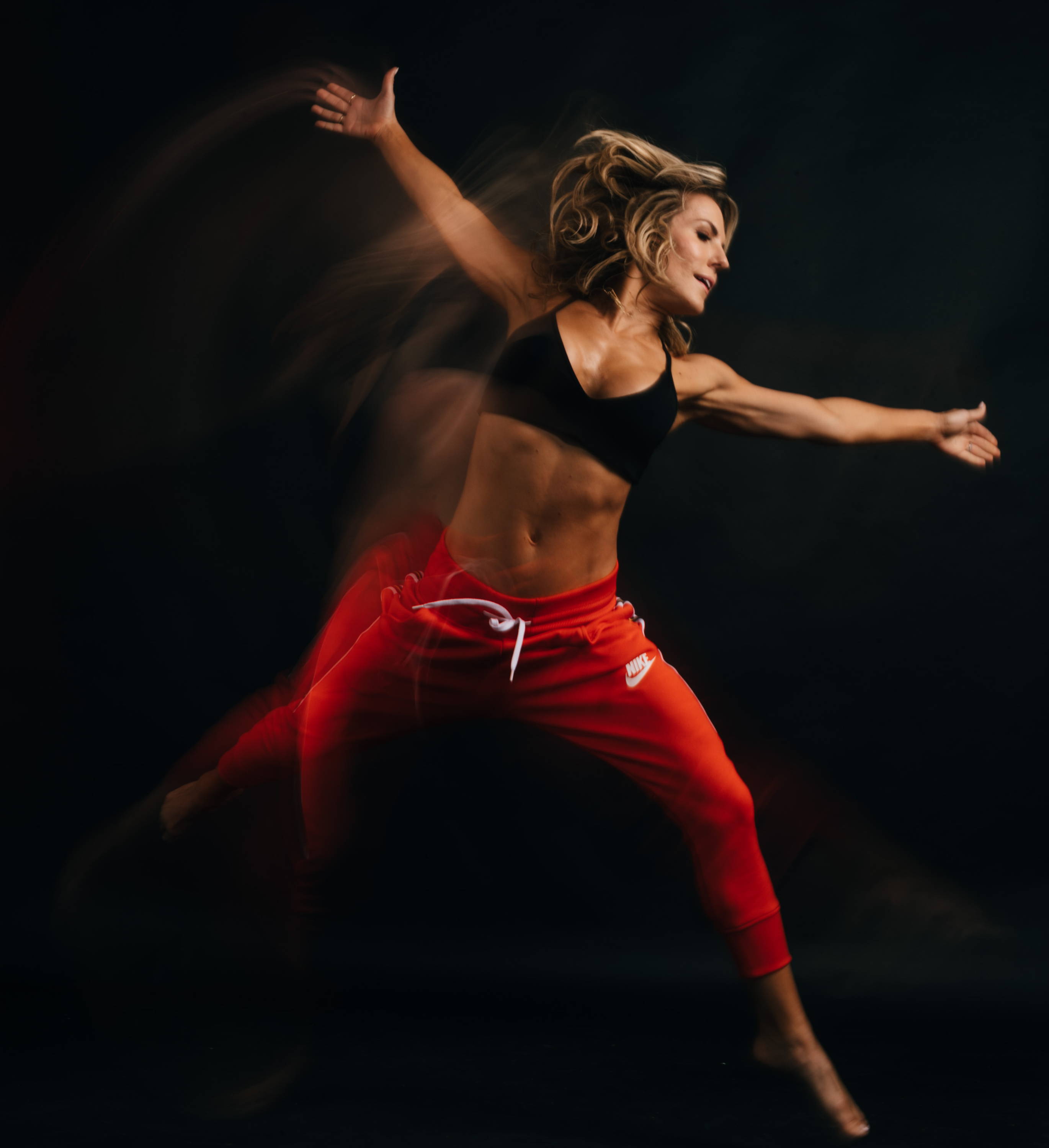 ANNA KAISER DISHES ON WHY WORKING SMARTER — NOT HARDER — IS THE KEY TO REACHING AK-LEVEL FITNESS GOALS.
– KEYS SOULCARE
Anna Kaiser is a dextrous force with a tangible, uplifting energy. (No wonder our Goddess-in-Chief has been a long-time fan… but more on that later.) The supermom of two boys has spent the last decade building a family and a legacy in NYC alongside her husband, ​​Dr. Carlos K. Wesley. As the founder of her eponymous boutique fitness brand, Anna's hybrid love of movement, community, and heart-centered joy has made her a global success for interval training. (Translation? A buzzy workout that combines short bursts of fast-paced exercises with slower-paced activity to improve overall health, strength, and endurance.)
Since launching her first studio in 2013, Anna has created some of the most sought-after fitness programs for dance, sculpting, and step while cultivating a community empowered through mind-body connection. But Anna's entering a new era and merging her expertise and enthusiasm to birth the next level of her evolution. Keep reading to discover the highest visions for her future and her noteworthy perspective on the myth of "doing it all."
ALICIA TURNED TO YOU TO PREP FOR THE KEYS WORLD TOUR. HOW DID YOU HELP HER REACH HER FITNESS GOALS FOR THE ROAD?
We have been working together [for five years]. I also pulled in my Master Trainer Jamie Golden to help keep Alicia on track both on and off tour. Alicia does so much for so many other people; it's wonderful to be able to give her some of that joy back. Alicia is such a calm, grounded person, and that is something that I admire a lot — especially with everything she has going on. Sometimes that makes it a bit more challenging to get her heart rate up.
I had to pull some tricks out of my bag to figure out how to get her heart rate up, and keep it up for an extended period of time (she is in great shape, so her heart rate will recover quickly). The program I created for her specifically targeted both the endurance and the strength she needed to fuel her tour. When she's on stage, I wanted her to feel like she was prepared for anything and everything. The workouts were designed to build her strength and endurance so that she could perform for hours and not get tired, allowing her to be in the moment on stage and not worry about the physical demands of the show. She was ready for it! Plus the cardio exercises warmed up Alicia's voice for performances – BONUS POINTS!
WHAT'S YOUR ADVICE FOR MAINTAINING A MOVEMENT RITUAL?
[Your workouts] should help make what you're doing in everyday life easier. If you're not asked to lift 80 pounds in everyday life, why are you doing it in your workouts? Your workout should be an extension and an elevation of everyday movement – functional training. It will help prepare you for anything by making you stronger, more energized, and help keep you injury free! When you add dance and music, it makes it even more fun.
WHAT INSPIRED YOUR JOURNEY TO INTERVAL TRAINING AND BOUTIQUE FITNESS?
I was a professional dancer for 20 years. While I was performing, I found myself having to run to 5 different boutique fitness studios to get a comprehensive workout. I loved all genres of fitness but wanted to figure out how to create a comprehensive program that was available in ONE studio. After receiving my BFA in Dance, I continued my training by becoming certified in Pilates, yoga, barre, National Academy of Sports Medicine, TRX, and I attended a course at Mount Sinai for functional anatomy and injuries to study with the cadavers and learn about the body from the inside out.
My initial introduction to interval training was so intense and very hard on my body. It's such an efficient workout, but [I wondered if] there [was] a way for me to create an interval training program designed for a woman's body.
That's what I'm doing now. It's an interval-based workout that marries dance and functional training so that you can get the results from interval training and sculpting, but have fun working out and trust that the program is designed for what a woman's body needs. You're going to do Pilates, yoga, functional strength exercises, dance, and everything that has inspired my journey. Lights down, disco ball on, and rock out! I believe that working out should be fun AND effective. I am bridging the gap between the private training gym world and the boutique fitness community.
HAS SOCIAL MEDIA IMPACTED YOUR APPROACH TO FITNESS?
In 2017, I was on a panel with John Foley, the founder and former CEO of Peloton. We were speaking about the future of fitness. [I was asked]: Is it digital? I was, [and still am], of the mindset that humans need humans.
There are many benefits to social media. There is so much we're able to learn in a short period of time because of the vast amount of information that is available at our fingertips. But we also need to remember the necessity of personal connection. We are physical beings exchanging energy with each other everyday. We should allow ourselves to learn and be present and fed from the life we are physically leading. The virtual world and the digital options [we have] should be, in my opinion, an extension of that, not a replacement.
With the pandemic, you [saw] a lot more people [without] traditional knowledge, certifications, or education driving [their fitness] business. It became more visual and aesthetic-based. But what happens if social media shuts down? Is there a job there? Is there life there? Are you connecting with people? Are you creating a sustainable solution for yourself that isn't based on your image alone? Digital fitness will always be a great supplement to our in-person workouts, but I recommend finding a certified professional to help guide you through a science-based program.
ON A SOULCARE NOTE, WHAT DOES MOVEMENT MEAN TO YOU?
[Movement is] therapy. Movement is freedom. It's a release. It allows us to more deeply connect to our own bodies as well as share our energy with other people [in a way] that's euphoric. It can help us express emotion and work through pent up frustrations that we hold in our physical bodies. It can be spiritual. It's a medium through which we celebrate life. Dance has always been a celebration of life, in most cultures around the globe for hundreds of years. At weddings, celebrations, and coming of age events, dance has played an important role in our lives and helped us express who we are as humans around the world. It's a way to release anxiety and stress, to be present, and to share our energy and joy with the people who are sharing that moment with us. I believe we all need to move everyday to feel strong and connected to the world we inhabit.
WITH A THRIVING WELLNESS EMPIRE AND GROWING, YOUNG FAMILY, HOW DO YOU FIND THE TIME TO BALANCE IT ALL?
I don't think balance is possible, but what I do like to strive toward is being present in each of those roles. It doesn't always happen, but whenever I am in a specific role, whether it's as a mom, picking my child up from school or as a boss at work with a client, I aim to be 100 percent present and focused in that moment.
I think women and mothers get so good at multitasking that we don't even realize we're doing it. It can very quickly deplete us. Allowing ourselves to be present in one role at a time can be so fulfilling because we're getting back [what we give] from whomever we're with and the environment we're in.
HOW DO YOU SOULCARE OUTSIDE OF FITNESS?
Nature is really important. I try and get in a walk through Central Park at least three times a week to disconnect from the noise and inhale the nature around me. I recently started therapy for the first time and I'm loving it! I'm starting to journal every week. It's truly a form of self-care when you have time to come up with words for the way you're thinking and feeling and start to integrate real change into your everyday life.
Spa days are heaven. Even escaping for a 45min pedicure or massage allows me time to recharge my battery and refocus for the week. The gift of touch and shared energy can be so calming and rejuvenating. I try and schedule myself one wellness treat a week if I can fit it in!
I [also] love girl time. We don't talk about this enough! It's just as important to have a 15 minute call with a girlfriend as it is to have a 15 minute work call.
WHAT IS YOUR HIGHEST VISION FOR YOUR WORK?
Fitness is a very personal experience. I am and will always be at my core, a teacher. I want to people find strength and joy they never thought they had and learn how to move more intentionally through space in a way they never thought possible. I want to continue to be a leader in the fitness community and help creatively evolve the industry. To never settle! To always push myself and my community to learn, to get stronger, and to be more compassionate for ourselves and each other.
WHAT IS YOUR HIGHEST VISION FOR YOURSELF?
To be present and grounded and joyful, every day.
WHAT MAKES YOU A LIGHTWORKER?
My gift to the world is spreading joy and helping people find the strength they didn't know they had. Whether it's physical or emotional or the combined strength of community, I really love seeing people discover their power.
Enter your email and receive 10% off your first order.